Its Friday again! Time for a little fashion.
Today is inspired by this gorgeous Bibhu Mohapatra gown. In addition, I want to do a comparison, so this post is going to be a little bit long. Ready? Here goes!
I love holos. I know I am not the only one, so I'm going to do some "dupe" posts, because I love them almost as much as I love holos. I thought I would start with one of my favorite colors, purple, partly because my all time favorite holo (so far) is purple, but also because I actually have two dark purple holos to compare.
This is China Glaze When Stars Collide (index/ring) and Literary Lacquers If It Pleases You (middle/pinky).
Without Flash
With Flash
Let's talk about formula. This is one coat of each. As you can see, When Stars Collide is more pigmented, but applies patchy. If It Pleases You is a dark purple jelly packed with holo glittery goodness. Even with one coat you can begin to see the amazing linear rainbow going on here. When Stars Collide, on the other hand (or finger as it were. Tee hee!) is showing very little holo, even with a flash.
Without Flash
With Flash
Here is two coats. You may have heard me complain about how the China Glaze holos show EVERY SINGLE flaw in your nails yet still have a very "flat" apperance. If It Pleases You has that delightful "squishy" appearance that all jellies have. With a second coat, When Stars Collide is fully opaque, no need for anymore coats. If It Pleases You still seems a little sheer, but look at that rainbow spark! Without a flash, When Stars Collide exhibits little to no holo flare and even with a flash, it is still a bit dull.
Without Flash
With Flash
And finally, three coats. These are DEFINITELY not dupes! When Stars Collide cannot hold a dull flickering candle to If It Pleases You's roaring flame. Lets look at this thrilling beauty on her own.
If It Pleases You is so complex, I have a hard time even beginning to describe it, so I will let the pics do (some of ) the talking.
.....Words fail me, but I will do my darnedest because I just can't shut up about Literary Lacquers If It Pleases You. What a contradiction, just like the polish. It is purple, but in some lights it looks brown. Then there is the brilliant blurple flash at the center of the rainbow. Purlple....blue....brown.....rainbow! It definitely pleases me! Debbie, from The Crumpet
described it best when she said it looks like a bruise, a wounded plum, decaying fruit and dying splendor. How can I top that? Maybe with a gif showing this esoteric charmer in action.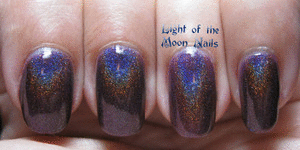 What you really want to know is WHERE CAN I GET IT! You can purchase it on Amy's Facebook store HERE or at Etsy HERE
.
At the time of this post, If It Pleases You is available at both locations.
Oh yeah, this was about Fashion Friday, wasn't it?
To be truthful, it killed me to cover this up, but it had to be done. I used OPI Every Month Is Octoberfest (another favorite polish) to create the horizontal triangle.
So what do you think? Another successful Fashion Friday? One more gif and I will let you go.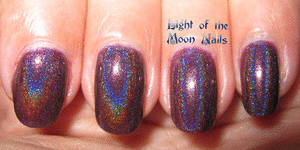 As always, thanks for looking and all the wonderful comments! See you next time.
Tina