When I first saw the theme for this months Nail Challenge Collaborative, I thought I might sit this month out. The theme is flowers. If you know me, you might guess that this would be the case. I am not really a flower type girl and I have said so before. In fact, the only flowers in my gardens have been planted by my hubby. I tend to think, "If I can't eat it, why waste the water?" (Tee hee) But lately I have been warming up to them on my nails and I have a lot of interesting flower patterns on my new plates so I thought, "Why not give it a try. After all, it is only 4 manis". Most of these will be stamping, but I have a great idea in mind (I hope) for something a little different that I want to try. Enough blabbling...on to the nails!
Normally I don't show a flash photo as my first pic, but I wanted you to see the amazingness of this base straight off. See that holo, even under all that stamping? Want to see it on it's own? Of course you do! Get ready for multiples of the same nails in the same pose under many different lightings. Kinda boring, but I wanted you to see the many faces of this beauty.
Here is HITS Ares, two coats with top coat. This is using my natural light lamp farther away from the light source. I feel it is much like what it looks like in shade or indirect lighting. It looks more like a red base with silver and gold glitters than a holo. Pretty in and of itself, but nowhere near it's full potential.
This is with a flash. There is the holo! Here you can see that some of holo particles are a bit larger than others, which makes for a multi depthed look.
This is in direct sunlight. For some reason the holo didn't show up as well, but know that it is the photographers fault, not the polish.
And I saved the best for last. This is without flash with a light source from the side. Look at the bend. Not the most bendy I own, but how can I not love a blood red holo! Ready for the gif? Just remember that this is so much more lovely in person.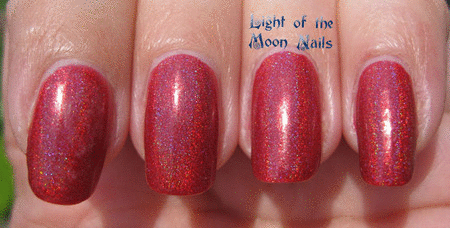 This shimmery god (literally since all their holos are named after classic gods and goddesses) applied smoothly and easily. Actually better than almost any holo I own with Literary Laquers holos being the best. No dragging or flooding, and remember, this is only TWO coats!
HITS is a Brazilian brand so you might expect it to be hard to find in the states. NOPE! Thanks to my favorite foreign/indie polish procurer, LLAROWE , you can find this beauty, along with several other holos and multichromes, HERE. I notice that many of the polishes say "reformulated", including Ares so here's to hoping that the new ones are even better!
Of course this mani was supposed to be about flowers, right?
Here is the non-flash version. You can still see a bit of the holo goodness. Although I hated to cover Ares up, he still looked gorgeous. Of course I wore it two days before I had the heart to cover him up.
I stamped with a new favorite image from my new(er) PUEEN set, PUEEN27 and Finger Paints Black Expressionism. I have a thing about embroidered lace...so sexy in my eyes. This was one of the images that made me WANT this set.
Before I go, I wanted to let you know that I have some new stamping plates coming. Happy dance!
Let me know if you would like to see reviews of any my new plates. I have some Sugar Bubbles, Dachina and Apilipia plates coming and would love to do a post to show each set, but to be honest, photographing and editing stamping plates is a very time consuming endeavor (mostly because I am a damn perfectionist and feel the need to edit them to death). I would be HAPPY to do it, though, if y'all want me to.
As always, thanks for gracing my blog with your presence and commenting!
Tina