I am not a lover of red manicures. I think it has something to do with feeling like I have bloody fingernails. It goes without saying, then, that the least represented color in my stash is red. I have more green polish than red, more browns, more metallics. That being said, I always get tons of complements when I do wear red and there have been a lot of interesting reds released this year. Just don't expect to see any straight up classic red cremes on this list.
Just a reminder.
I always paint to opacity and then add one more coat for the macro pics. In other words, when it says I used 3 coats, you can achieve "in real life opacity" at 2 coats. In no particular order:
With Flash
Artificial Light
Julep Nan
- 3 coats
I have a love/hate relationship with Julep. I hate their bottle design! They are tall and skinny....which means they are easily knocked over, the brush is very long...which means that you have to scrape most of the length of it along the lip of the bottle or else the polish drips down onto the brush during application and can make the nicest formula a cuticle flooder, they often have a weird (not unpleasant, just weird) smell and they only hold .27 fl oz instead of the typical .5 fl oz. I would never (and have never) pay full price, or even maven price, for a bottle.
That being said, I have a lot of Juleps and several in my 2013 faves. Why? Because I am a Maven (subscribe to their monthly beauty box). I have probably skipped as many boxes as I purchased in the last year as I won't purchase unless all of the items appeal to me, but they come up with such unique colors, like Nan. Nan is described as a "Nantucket red". Now I don't know what that means....maybe lobster red? It is not what I typically think of when I think red....but it isn't really a pink or a coral either.
Whatever it is, it is unlike anything else in my stash. I would describe it as a dusty orange leaning red. It has that squishy crellie feel and dries to a beautiful shiny finish. These pics are without topcoat. You can see nail art done with Nan HERE.
With Flash
Artificial Light
Sally Hansen Insta-Dri Red-io Active
- 2 coats
If you are looking for the quintessential metallic red, you can't do much better than Red-io Active. First of all, it is basically a one coater (even though I show it with two), is excellent for stamping and dries lightening fast. Plus it has one of those finishes that just glows! In addition, I love the brush on the Insta-Dries, wide, flat and CURVED so it snugs up to the cuticles without flooding! I know some people don't like them, but I do! Is that enough to add it to your faves?
With Flash
Artificial Light
Mentality Beautiful - Two coats
Ah Mentality, I must purchase more soon! They are one of my favorite indie polish makers, not only for their beautiful, unique polishes, but also for their excellent customer service. Beautiful is just that...Beautiful :) It is the type of matte polish I like, with a just the right amount of shimmer so it doesn't look flat, but not so much that it looks like a brushed metal. It is redder in real life, but still leans a bit towards the purple end of the red spectrum. Look how it glows in that flash photo. This is what it looks like in almost any lighting. *sigh* LOVE IT!
Artificial Light
For those that like to top coat their mattes for a different look, here it is in its shiny, shimmery perfection. Some mattes are a little thick and harder to apply, but not this Beauty! Watch for more Mentalities in upcoming categories!
With Flash
Artificial Light
SpaRitual Improvisation
- 3 thick coats
This is from the 2013 Illuminate Holiday collection. I don't often add SpaRitual to my stash, but every time I do, I am glad I do. I had seen some swatches of this collection and was on the fence about if I needed (like I really need nail polish!) to purchase any of them. They seemed sheer, and I don't like sheer polish because of my weird visible nail lines. They did definitely catch my interest though. Then when I was at ULTA's after Christmas sale, I found almost the whole collection 50% off!
If I was smart, I would have picked up the whole collection. More like if I had unlimited resources!

I picked up several, and this shimmery, complex red jumped right into my fave list. I have never seen anything like it! Yes, it is sheer, and yes, I did have to give this 3 thick coats, which is easy with its stay put formula, but it is totally worth it! I just have to share what SpaRitual says about this collection, because the description is almost as beautiful as the polish. "
The Illuminate Holiday Collection borrows luminous color from the master glassmakers of Italy. Cool electric hues reflect a rich heritage of craftsmanship. Iridescent shades catch and play with light. Recycled glass beads magnify vibrant colors. Bellissimo." I don't know about glass beads, but this carnelian red is filled with blue reflecting glass flecks. Although I have shown it on it's own, it can also be layered over other colors. I can see it being a good fit for Nan. Oh, it also makes me want a lip gloss with this color/finish!
With Flash
Artificial Light
A England Briarwood - 2 coats
Of course, I saved my favorite for last and, yes, it is a holo! There are several holos on my list and A England knows how to do a good holo. The other holos I have from them are scattered, but I consider this one to be a subtle loose linear. Most of the swatches I saw of this online looked like a dark, purple leaning red, but I found it to be more of a brown leaning red, just the dark vampy kind of color I tend to fall for. As every A England I own, this applied amazingly with not a hint of cuticle flooding. You know what is coming now, don't you? Yep, a gif!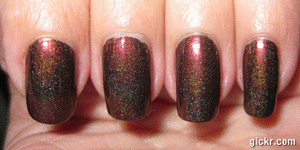 So, tell me what you think! Do you think a good red creme should be in this list? If so, which one? Thanks for looking!
Tina