I read lots of blogs from all over the world. The last few days I have seen several posts talking about it being spring, even talk of 60 degrees. Not around here! Our high today was -7 with -20 windchill. The kids were off of school today because of the cold. Wish I would have been off! But now I am home and have some gorgeous dark greens to show you!
Just a reminder.
I always paint to opacity and then add one more coat for the macro pics. In other words, when it says I used 3 coats, you can usually achieve "in real life opacity" at 2 coats. In no particular order:
With Flash
Artificial Light
Zoya Chita - 2 coats
Yep, I am riding the texture wave...Hard! The thing I love about Chita is that it is the perfect color green and is filled with antique gold sparkles. So purdy! You can find a texture gradient with Chita HERE.
With Flash
Maybelline Emerald Elegance
- 2 coats
I forgot that I only got a flash photo of this beauty until this moment, so this is all you get. Just google it so see how gorgeous this deep green is. It has a very unique finish, a dark jellie base chock full of dark green microglitters and emerald hexes. This baby is to die for! And perfect for those Christmas tree manis! You can see just that HERE.
With Flash
Add caption
SinfulShine Man Hunt
- 2 coats
I have a thing for these dusty olive/army greens. I have several in my stash, but this one is unique. It is filled with a lovely shimmer that gives it that added interest and depth. On top of that, the shine on this one! No top coat needed for this one!
With Flash
Artificial Light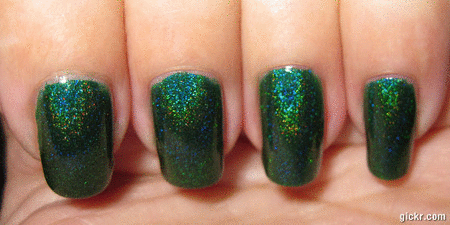 I Love Nail Polish Fresh Evergreen
- 2 coats
Barbara, from I Love Nail Polish, knows her holos! Just look at that gif! This vibrant amazon green boarders on teal with its blue bending holo. My pics do not do it justice. Application is as soft and smooth as a green banded swallowtail's wing. It always amazes me that you can pack so much holo into a polish and still get a smooth finish. Although this is two coats, I could have got away with one, even for the macro shots! Two is just habit I guess. I bet this would be an excellent stamper too! I think if you took A England Dragon, crossed it with Saint George and threw in a linear holo, you might come up with this lovely shade. I have a soft spot for dark holos and you know you will be seeing more soon.
With Flash
Artificial Light
Picture Polish Mallard - 2 coats
Choosing my #1 green was very difficult in this category. It was a close race between this and Fresh Evergreen, but Mallard won out for its inspired composition. Dark forest green gellie filled with shimmer and flakies? Who wouldn't want that! This was another one that I wish I had reswatched. These pics are from early in the year when my application/photography/editing skills were still a bit shaky. Plus these pics are after two days of wear. Just look at the index nail in the flash pic and you will get an inkling of what this polish looks like. Better yet, just hop over to The Polishaholic and look at her swatches! Then check out my St Patrick's Day mani with Mallard HERE .
What do you think? Agree with my top pic? Do you love green polish as much as I do? Sick of the lists yet? We are almost halfway through! Thanks for looking and commenting!
Tina