Another Never Ending Pile post, this time indie. Choosing this was probably the hardest so far. Why? I love me some indies! So I decided to do something a little different. Art, swatching and a comparison.
Here is the art. Part of the reason I am doing more than just the art, is because the art ins a bit lack luster.
Artificial Light
With Flash
Sunlight
This started with the gorgeous Chirality Kale. The moment I saw this swatched over a year ago, I knew I wanted it. It took awhile to add it too my stash, and then it languished. In the meantime, I added more green holos....because I am a green holo ho. I even have worn several of them. Why oh why did I wait to wear this?
Artificial Light
Sunlight
The thing that makes this different from all my other green holos....maybe even ALL my holos....is that it is not a silver holo. No, this one is gold. Even in the shade, it has a warm tone to it and still shows the bend. If the polish fairies (or demons in this case) said I was cursed to only have one linear holo in my in my stash and any others would turn to dust as soon as it reached my hands, this would be the one I would keep. Can you tell I have been doing a Supernatural marathon with Bria this week? Thank God there are no polish fairies/demons and I don't have to chose, but the point is that my love for Kale is STRONG. I haven't done a holo gif in awhile. This is the perfect polish to remedy that with.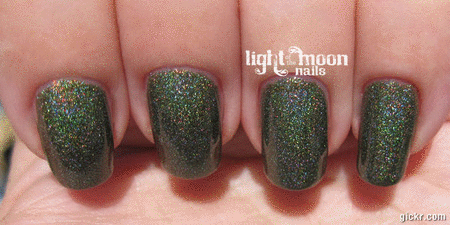 Sunlight
Although these were taken in full sunlight, my camera just could not appropriately capture the gorgeousness of this. Believe me, although it is not a tight linear bend, it is a strong one!
So now that you have seen the beauty that is Kale, let's compare it to my other dark green holos (yes, I have just as many light green holos and will do a comparison on those soon, hopefully).
Top is with flash, bottom in artificial light. Here's what is what, left to right with the number of coats:.
Index - I Love Nail Polish (INLP) A Fresh Evergreen (AFE) - 2 coats

Middle - LynBDesigns The Credible Hulk(TCH) - 4 coats

Ring - Pahlish Olea Europaea (OE) - 3 coats

Pinkie - Chirality Kale (Kale) - 2 coats
Let's break this down:
Opaqueness - The most opaque are A Fresh Evergreen (AFE) and Kale. You could not get away with one coat of AFE as the first coat is streaky, but you could get away with one coat of Kale. The Credible Hulk (TCH) is the least opaque as it has more of a jellie base and I would recommend undies for this one. It is totally worth it though. If you want to see it fully opaque, check the nail art HERE, where I used thicker coats over a milky base coat. Olea Europaea (OE) is moderately opaque.
Holo details - Don't know that I need to go into this too much as it is pretty obvious. They are all linear, with OE having the strongest bend. OE bends olive green to blue to gold. Kale is the second strongest with a bend olive green to gold to blue. The other two have weaker blue bends. The strong blue bend in OE tends to obscure the olive a bit, making it appear more of a gray green, where as the warm olive color shows much better in Kale. In indirect lighting, the bend is almost unnoticeable on both AFE and TCH, whereas it can still be seen in Kale and OE.
Ease of application - Kale was the easiest to apply with the best formula. No streakiness on the first coat and no cuticle flooding. AFE had the second easiest. It was streaky on the first coat, but no cuticle flooding. OE was thinner and therefore had some cuticle flooding. TCH had the worst formula, mostly because it is so thin. It was very patchy until the third coat and should be allowed to mostly dry between coats or you get dragging.
Change of holo with top coat - There was no dulling with topcoat for TCH and OE. There was slight dulling for Kale and significant dulling with AFE. AFE is shinny enough on its own to not need top coat. Kale also would not need top coat, although it is not as shinny as AFE. OE you can use either with or without top coat. TCH is also shiny (as you would expect with a jellie), but because there is no dulling with top coat, you might as well use it for an increase in staying power.
Wear - Having worn all of these two or more days with different manis, here is my observations. All of these are with top coat. AFE had significant tip wear after 3 days, but no chipping. TCH also had tip wear, but not as much as AFE. OE had tip wear and chipping after 4 days. Kale had little tip wear after 3 days and no chipping.
There you have it. There are definitely no dupes here! I have been doing a lot of comparisons recently with the goal to reduce my stash. After this comparison, I have no desire to purge any of these green holos, they are all so different! If you aren't a green ho, like me, I would suggest Kale and A Fresh Evergreen are must haves for a warm and cool green holo.
Oh, and maybe I should tell you about the art. I stamped with SH225 (a snake skin pattern) and Ozotic 910 Scatter. The gold looked good until I added top coat and then it kind of faded into the green so that you could BARELY see it. I usually like subtle stamping, but this is just TOO subtle :)
What are your thoughts? Do you like this kind of comparison? Did I go into too much detail? Or not enough? Let me know if you would like to see more comparison posts in the future!